with the Founder of Sunshine Yoga Lyn Thomas
What is it about Yoga Holidays? 
Our usual holidays are about getting away from our job and responsibilities. Sunshine Yoga Holidays are this and much more.
Are you in need of an adventure?  Do you want to experience new cultures, new landscapes, new challenges? Do you want off-the-beaten-track adventures, allowing nature to embrace your very core?  Is the draw card architecture, history and culture?
Amidst all of the above, we add yoga, meditation, energisation and qigong, It is this that makes an ordinary holiday in to an extraordinary holiday.
Sunshine Yoga has been offering these style of holidays for over two decades, taking clients all over the world. They are unique, with just small groups of like-minded souls, making these holidays extremely memorable and special!
Lord Howe Island NSW Holiday
7night/8day and 9night/10day
Lord Howe Island, NSW
Fitness Level: low to medium
Islands are special places that capture our imagination in some fascinating way. Perhaps it is the mystical feeling of isolation, untouchable, quiet, that we connect with and discover a part of ourselves, difficult to find on the 'mainland'.
Lord Howe is world heritage listed and offers the perfect setting for escape, with its:
untouched beauty unique

flora and fauna

rare species of birds and fish

beautiful  white

sand beaches

sheltered lagoon

crystal clear turquoise water

hideaway coves, mountains, headlands

wonderful walking tracks and mountains to climb

snorkelling and kayaking 
Some meals are provided. Restaurants, cafes and grocery stores available.
Sunshine Coast Qld Retreat
3nights/4days
Amara Centre, Virrierdale Qld
Fitness Level: low to medium
Lyn Thomas of Sunshine Yoga & Health has been offering unique and authentic yoga and relaxation retreats since 1997. 
Yoga, health and wellness has been her life's work. She therefore provides wonderful varied programs that include:
slow yoga routines
specialised energisation exercises
qigong and meditation
psoas muscle release work
soothing guided relaxations
breath and pranayama
The Amara Retreat Centre is a beautiful 44acre property surrounded by natural bushland. Extremely comfortable accommodation with views out to Noosa. A steam room, fireplace and magnesium swimming pool add value of this retreat.
Expect nutritious, tasty, whole-food, fresh-made meals.
Time Out Day Workshop Brisbane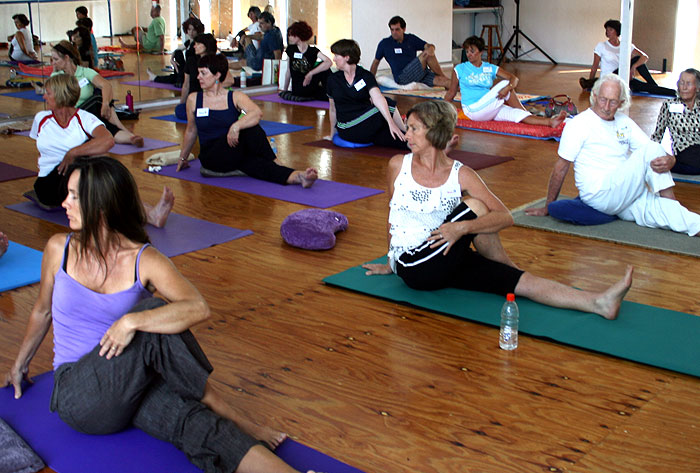 1 Day 9.30am-3.30pm
Nundah, Brisbane, Qld
Fitness Level: low to medium
Sunshine Yoga & Health has been organising 1 or 2 Time Out Days per year since 1999. 
We all need time-out from our daily chores, work and responsibilities. Here, switching off and leaving all these outside the door brings you to a very nice space of relaxation and connectedness. You are nourished with a program of:
yoga breathing and breath awareness exercises
slow yoga routines for releasing tightness and building strength
meditation and guided relaxations
qi gong and energisation exercises
At days' end you will leave feeling connected, contend, relaxed knowing that 'life is good'. 
Lunch is provided and is wholefood, fresh-made, nutritious and tasty.
Nepal Yoga Trekking Holiday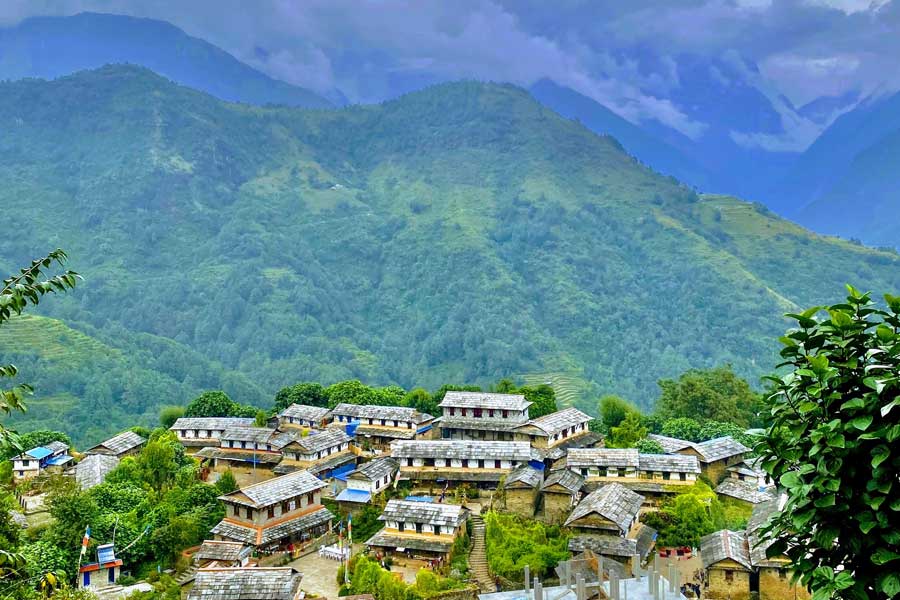 To Be Advised due to Covid
19nights/20daays
Kathmandu Chitwan Pokhara AnnaPurna Trail
Fitness Level: medium to high
Nepal provides extreme experiences … contrasts from truly inspiring to truly confronting. "However", Lyn says, "it is contrast that moves us through life and creates learning and expansion. I must say I returned home with energy and a lovely feeling of connection, with me! 
Variety is presented in the itinerary where we travel from Kathmandu, to Nagarkot, to Chitwan, to Pokhara and then to the amazing Himalayan mountains and Rhododendron forests, finishing with Ayurvedic massages and steam baths". 
We end our adventure in Pokhara and utilise the Ayurveda Health Home for daily Ayurvedic massages and steam baths. This is incredibly beneficial, inspiring, educational and informative.  We leave this amazing country feeling healthy, energised and well prepared for whatever is awaiting us at home. 
Italian Cultural Yoga Holiday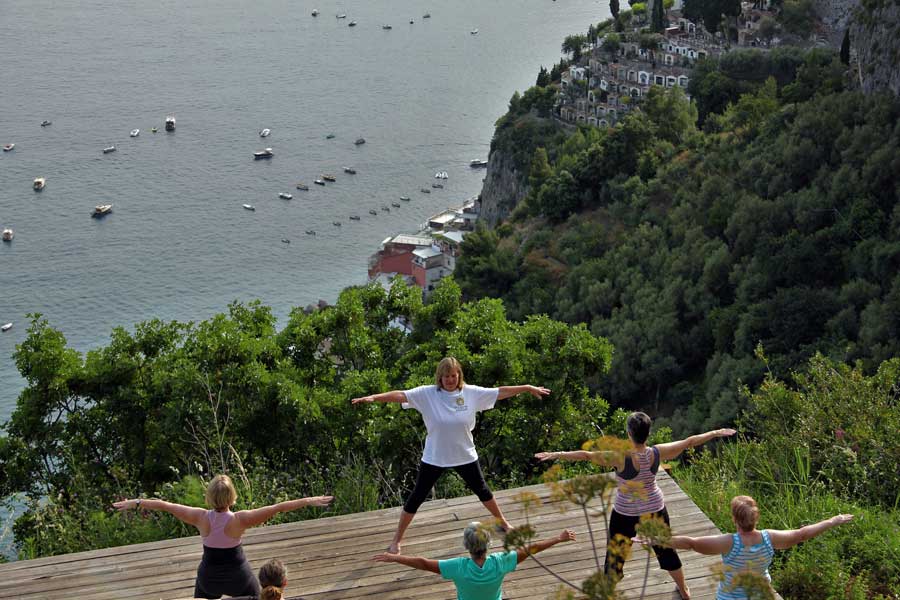 To Be Advised due to Covid
17nights/18days
Tuscany Ravello Umbria
Fitness Level: medium to high
Tuscany, Ravello and Positano are on the stunning Amalfi Coast. This coastline is amazing and hugs the coastline in Southern Italy for miles. It is indeed one of Italy's most memorable destinations with an outstanding Mediterranean landscape.
The mountains plunge down into the sea and homes hang on to the side of the cliffs. There is amazing architecture, history, stunning views of turquoise seas.
There are great restaurants and hiking trails. Our tours to Capri, Sorrento, Ravello and the wonderful hike on the Path of the Gods with its stunning views, cliff faces, caves, ancient convent, vineyards and gardens, make for the most memorable holiday.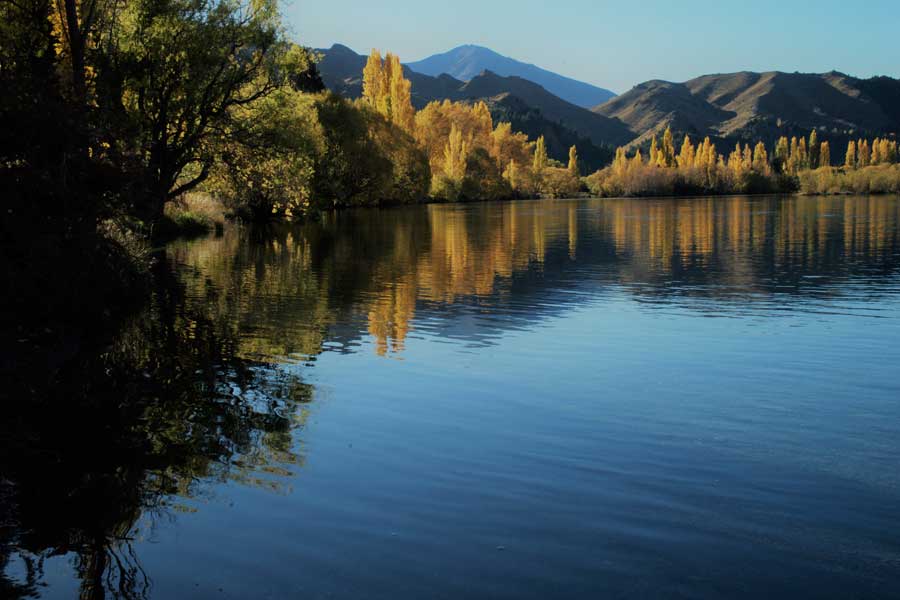 To Be Advised due to Covid
14 nights / 15 days
Hawkes Bay Waikato 
Fitness Level: medium to high
New Zealand is undoubtedly one of the most beautiful countries in the world. Wrapped up in two islands it is quite astounding just what this stunning country offers.
The North Island is diverse with many amazing natural wonders. I am taking you on a wondrous journey back to my birthplace. Experience the working dairy farm where I grew up. The home farm was in our family for 4 generations. The Waikato is full of inspiring and unique places to visit and experience, along with the mountain to climb that sits behind the farm.  I can guarantee you a myriad of interesting little surprises during your stay here.

Lyn Thomas (dip.IYTA AUS) and (cert.YTT Ananda Yoga USA) is a yoga and meditation teacher, facilitator and entrepreneur and is the creator and owner of Sunshine Yoga & Health. Lyn is one of Australia's most experienced yoga teachers and yoga retreat and holidays specialists.
Her beginnings in the yoga and health field began when she was just a young child. Her work emanates passion, authenticity and the true desire to share her knowledge and expertise to the world. She has over the countless years brought hundreds of clients to a point of personal awareness and growth.
Lyn's vibrant and adventurous spirit continues to take her to many locations all over the world. Her joy is sharing these adventures with others. She has specialised in yoga and adventure holidays over the past 20 years, allowing her to provide life-long and often life-changing experiences to her many clients.
Her sole purpose is to share her experience and knowledge with people who resonate with her work.
Lyn's ideal is to give people tools that allow them to take care of themselves and achieve long term health and wellness on all levels.
"Being in one's own personal power is the ultimate to life", Lyn says.
My history of yoga and health goes back to the 1960's when I was a child in New Zealand. I took to it like a duck to water and have never ceased to be involved. I was teaching yoga long before I became 'qualified', as was my mother, Marion,  who was also a yoga teacher.
Nepal was an AMAZING adventure Lyn. I could have continued trekking for another 6 days! My resting pulse went from the 80's to 64. Very regenerating. Look forward to seeing your amazing photos. Liz.
Thank you Lyn for an amazing 'first retreat' to Stradbroke Island. It was perfectly timed giving me much needed time out for myself. I returned home feeling relaxed, rested, rejuvenated and ready to take on life again. Amelia.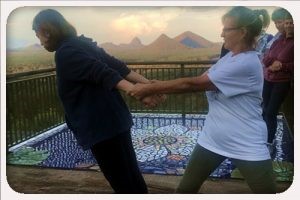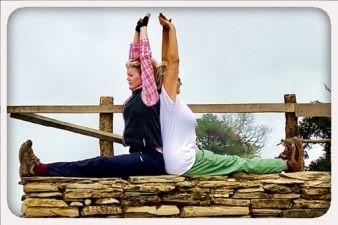 Lyn … support in the wilderness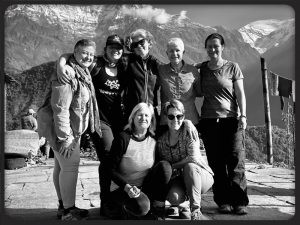 Lyn … having fun on the trail
My work emanates passion, authenticity and a true desire to share my knowledge and expertise with the world. I have over the countless years brought hundreds of clients to a point of personal awareness and growth through yoga, meditation and relaxation.  My sole purpose is to teach people how to take care of themselves whilst practicing yoga, and to achieve long term health and wellness, on all levels."Being in one's own personal power is the ultimate to life", Lyn says.
My style of teaching has changed over the years. As I've grown and developed my craft and indeed myself, I have imparted upon my clients my own natural process and progress. One of the valuable lessons I have learned from my early years of practicing very advanced and strong Iyengar yoga, is that tying my body in knots was not necessarily a good thing. Through this experience and my vast experience following, I know that the true essence and the power of yoga is soft and gentle.  Hence Sunshine Yoga & Health's motto "experience the power of gentleness" is a very personal and heart-felt motto.
Lyn has a wide variety of qualifications and is considered one of Australia's top providers.
IYTA AUS 1985;
YTT Ananda Yoga USA 1993;
12hr Psoas Workshop with Liz Koch 2015;
Founder and Director of Sunshine Yoga & Health 1996;
Producer of yoga and relaxation videos, dvd's and cd's.